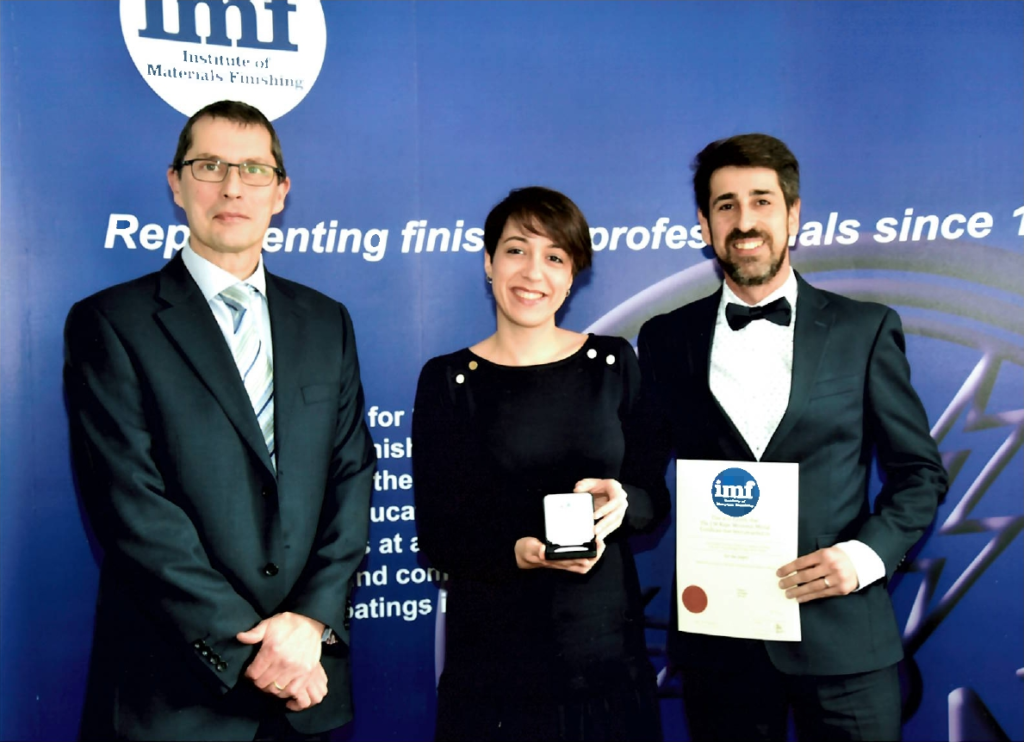 The Thermal Spray Center was awarded the Jim Kape Memorial Medal by the Institute of Materials Finishing (IMF) for its remarkable labour on materials science field research with the paper entitled Hierarchical structures of anodised cold gas sprayed titanium Coatings (Vilardell, A.M.; Cinca, N.; Pacheco, I.; Santiveri, C.; Dosta, S.; Cano, I.G.; Guilemany, J.M.; Sarret, M.; Müller, C.).
Announced by Barry Gay and presented by Karl S. Ryder, CPT's technical manager Dr. Sergi Dosta and the currently senior researcher and project manager at Hyperion Materials and Technologies Dr. Nuria Cinca received the award at the IMF's 2019 Annual General Meeting.
The Jim Kape Memorial Medal is awarded by the Institute of Materials Finishing for a paper of special significance in the field of aluminium or light metals finishing and published in Transactions, an International Journal of Surface Engineering and Coatings.
The Institute of Materials Finishing is a british scientific institution with almost one hundred years of history, whose main work is to provide a focus for Surface Engineering and Finishing activities worldwide through the fulfilment of the technical, educational and professional needs at all levels for both the individuals and companies involved in the coatings industry. Year by year, the IMF celebrates the Annual General Meeting (AGM), an important event where the most outstanding researches and professionals are recognised. This AGM Edition was celebrated the last 28th November 2019 in Birmingham (United Kingdom).